Mission Trips
God is at work around the world and FPC is privileged to be involved on many levels with this work. One of the ways we connect with our brothers and sisters in Christ throughout the world is by taking mission trips. These trips always have a set purpose and are focused on building relationships among the people with whom we partner. Here are a few of the mission trips we frequently take:
Thailand Mission Trip
Thailand Mission trip. Our church is sending a small team of 4 to Thailand to check up on and encourage several of our ministry partners in Bangkok and Chiang Mai. Please pray for Cynthia Howard, Wendell Iverson, Walter Thompson and Karen Winkler as they travel February 22 through March 6. To find out more about the ministries our church supports in Thailand and around the world, come by the main reception area to pick up your FPC "Passport to Missions" booklet or you can click here to view an online version.
Uganda/East Africa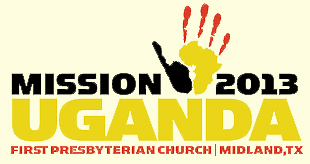 Every year since 2003, FPC has taken a trip to Eastern Uganda to plant a church through the Presbytery of Eastern Uganda. Through partnering with the Presbytery there and working alongside Ugandans as we share the gospel from hut to hut in the villages, God has used this trip to change many lives. What a privilege it is for us to see how open to the gospel message these folks are! As we look to the future, the Presbytery of Eastern Uganda is expanding their ministry to include planting churches in both Tanzania and Kenya. This trip usually takes place the second half of June each year. Contact for more information.
Junior High Mission Trip
Our junior high youth take a mission trip every summer. This trip provides an opportunity for our younger students to be a part of what God is doing in our inner cities through a variety of ministries ranging from soup kitchens to after-school programs. We work through Center for Student Missions, Inc. to connect with a variety of ministries in the city. Contact for more information.
Other
FPC is involved in many other areas around the world. Occasionally we take trips to strengthen our ties with these ministries as well. We have a close working relationship with several ministries in Thailand and periodically take trips there. Our senior high youth plan to take a biannual cross-cultural mission trip starting in 2012 (to Peru). We are always open to where God might lead us to be more involved as well. Contact for more information about Mission Trips.